Calendar for all Central Ohio Contra Dances
There are two contra dance organizations in Columbus, Big Scioty Contra Dance and All Soles Contra and Squares. We have combined both schedules here so you don't miss a dance!
Health Protocols:
Masks and COVID vaccination are optional. We reserve the right to reinstate requirements if conditions warrant it.
BIG SCIOTY 
Location: Clinton Heights Lutheran Church, 15 Clinton Heights Ave., Columbus 43202
2024
Saturday, Jan. 6, 2024
Caller: Gaye Fifer
Band: The Hollertones
MOVING TO 2ND SATURDAYS, NEW LOCATION (MENNONITE CHURCH)
Columbus Mennonite Church, 35 Oakland Park Ave, Columbus, OH 43214, USA

Saturday, Feb. 10, 2024
Caller: Kim Thompson
Band: Trillium
Saturday, March 9, 2024
Caller: Frank Buschelmann
Band: The Rosenthorns
Saturday, April 13
Caller: Drake Meadows
Band: Big Fun
Saturday, May 11
Caller: Margaret Goodman
Band: Upriver
Beginners' Session 7:30 to 8:00 PM
Dancing 8:00 to 10:30 PM

COST: $10 ($7 for members), $5 ($3) for ages 26 and under
ALL SOLES FALL/WINTER 2023-2024
Saturday, Dec. 9
Caller: Susan English
Band: The Old Grey Cats
Saturday, January 13th
Caller:  Beth Mast
Band:  Firefly Trace
MOVING TO 3RD or 4TH SATURDAYS
Saturday, Feb. 24th, 2024
Caller: Richard Ades
Band: The Pegheads
Saturday, March 16, 2024 (note: 3rd Saturday)
Caller: David Mould
Band: The Root Cellar String Band
Saturday, April 27th:
Caller:  Kim Thompson
Band:  The Corndrinkers
Saturday, May 18th
Caller:  Gaye Fifer
Band:  Old Possum's Dance Band
Saturday, June 22nd:
Caller:  TBD
Band:  The Hollertones
Beginners' Session 7:30 to 8:00 PM
Dancing 8:00 to 10:30 PM
First Unitarian Universalist Church, 93 W. Weisheimer Road, Columbus, OH  43214
Cost is $10 for adults, $5 ages 12-25.
Big Scioty Contra Dance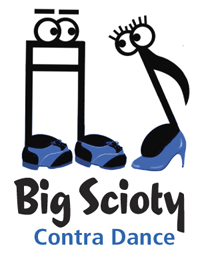 Clinton Heights Lutheran Church
15 Clinton Heights Ave., Columbus, OH 43202
Beginners' instruction at 7:30 PM
Contra Dance 8:00-10:30 PM
Adults $10.00 (Members $7.00)
Ages 12-26 $5.00 (Members $3.00)
Children under 12 free
All Soles Contra & Square Dance
First Unitarian Universalist Church
93 W. Weisheimer Rd., Columbus OH 43214
(map)
Beginners' instruction at 7:30 PM
Contra Dance 8:00-10:30 PM
Adults $10.00
Ages 12-26 $5.00
Children under 12 free
Child care available