Calendar for all Central Ohio Contra Dances
There are two contra dance organizations in Columbus, Big Scioty Contra Dance and All Soles Contra and Squares. We have combined both schedules here so you don't miss a dance!
2022
BIG SCIOTY 
Location: Clinton Heights Lutheran Church, 15 Clinton Heights Ave., Columbus 43202
Saturday, July 30
Caller: TBA
Band: Full Moon Country Orchestra
Saturday, Sept. 17
Caller: Frank Buschelmann
Band: Trillium (Mark Barsamian, Mark Delozier and Zeke Hutchinson)
Saturday, Oct. 1
Caller: Stephanie Schlie
Band: The McKenzies
Saturday, Nov. 5
Caller: Kim Thompson
Band: The Hollertones
2023
In Jan. 2023 we will return to The First Congregational Church, 444 East Broad St., Columbus OH 43215
Saturday, Jan. 7
Caller: TBA
Band: Hot Coffee Breakdown
Saturday, Feb. 4
Caller: TBA
Band: TBA
Saturday, March 4
Caller: TBA
Band: The Rosenthorns
Beginners' Session 7:30 to 8:00 PM
Dancing 8:00 to 10:30 PM

COST: $8 ($7 for members), $4 ($3) for ages 26 and under. Note that if you were a member in 2020, we have extended your membership until fall of 2022.
Click here for Big Scioty safety protocol information.
ALL SOLES SUMMER 2022
Saturday, June 11th
Caller:  Richard Ades
Band:  Wild Ones
Saturday, July 9th
Caller:  Gaye Fifer
Band:  Firefly Trace
Saturday, August 13th
Caller:  Kim Thompson
Band:  Timbre Wolves
Beginners' Session 7:30 to 8:00 PM
Dancing 8:00 to 10:30 PM
First Unitarian Universalist Church, 93 W. Weisheimer Road, Columbus, OH  43214
Cost is $10 for adults, $5 ages 12-25.
Details – including safety protocols for All Soles: In order to dance safely, we have some new protocols, based upon the success of other communities' return to dancing:
First, masks are required indoors. We strongly suggest an N95 or KN95 mask, but will allow cloth masks, if that is what you prefer.
Secondly, proof of vaccination (and boosting, if eligible) will be required. To make this as easy as possible for dancers, All Soles and Big Scioty will be sharing dancer vaccination information. That means that once you have shown/submitted your vaccination record to one of the dances, you're okay for both venues. To make the check-in process faster and easier, you may submit your vaccination info ahead of time by emailing a photo of your vaccination card to Marilyn Fais at sherm415@aol.com. You may also show your vaccination record at the door.
No child care will be provided because young children are not yet vaccine-eligible.
Weather permitting, we will have a snack table set up outside in the church courtyard.  Contributions to the snack table are welcome.  Please bring your own, refillable water bottle.
Questions? jan-allsolesdance@att.net
---
Past Bookings at Big Scioty and All Soles
Big Scioty Contra Dance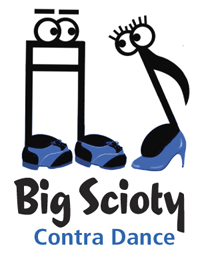 Beginners' instruction at 7:30 PM
Contra Dance 8:00-11:00 PM
Adults $8.00 (Members $7.00)
Ages 12-26 $4.00 (Members $3.00)
Children under 12 free
All Soles Contra & Square Dance
First Unitarian Universalist Church
93 W. Weisheimer Rd.
Columbus OH 43214
(map)
Beginners' instruction at 7:30 PM
Contra Dance 8:00-10:30 PM
Adults $8.00
Ages 12-26 $4.00
Children under 12 free
Child care available