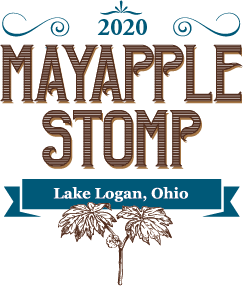 MAYAPPLE STOMP 2020 will be held the third weekend in May (May 16-17). See you all then!

Hosted by the Columbus contra dance community.
There will be contra dancing, music, potluck dinner, camping and fun at beautiful Lake Logan!
New dancers welcome!
SCHEDULE
Saturday, May 25, 2:00 p.m. – until ??
2:00-2:30 Check in begins and outdoor activities available.
2:30-3:45 Waltz workshop led by Dale Shirer
4:00-5:30 English country dance led by Sue Wartell, music by the Old Grey Cats
6:00-7:30 Potluck dinner. Prizes awarded in three categories: Salad, Main Dish, and Dessert. Lemonade, water, coffee, tea and tableware supplied.
8:00 pm – 2 am – Contra/square dancing 'til our feet wear out
8:00-9:45 Jeanie and the Dreamers
9:45-10:15 Waltz to recorded music
10:15-12:00 The Brickersons
After midnight – Open Band
Sunday, May 17, Until Noon
8:00 AM Coffee and drinks available
8:00–10:30 Breakfast
10:00–11:00 AM Open waltzing with The Old Grey Cats
10:00–11:30 AM Hike in Hocking Hills
11:00–Noon Clean up
By noon Leave
OPEN MIC: Caller sign-up starts at 7:00 pm on Saturday at the dance.
Musicians: Contact Jan Philips at jan-allsolesdance@att.net.
Pricing
Preregistration
All weekend: Adults $33; Youth (12-25) $23; Kids (under 12) $8
At the Door
Walk-ins are welcome – we'd love to see you! Cash or check accepted.
All weekend: Adults $38; Youth (12-25) $28; Kids (under 12) $8
Saturday only: Adults $28; Youth (12-25) $15; Kids (under 12) Free
Download registration flyer – click here
DETAILS
Kids
Kids are welcome to participate in all parts of Mayapple Stomp. No childcare is provided. Izaak Walton Lodge is on the shore of Lake Logan. Children must be supervised.
Directions
Izaak Walton Lodge – 29740 Blosser Rd. Logan, OH 43138
Lake Logan is about halfway between Columbus and Athens, off US Route 33 (less than one hour from Columbus). On the north side of Logan, take the exit for SR 664. Turn south/west onto SR 664 (toward Lake Logan). Keeping the lake on your right, go 1.4 miles to where 664 make a sharp left turn, and turn right onto Blosser Rd. Go 0.7 miles to Izaak Walton Lodge on the right. Park closely in the lot so all can fit.
Lodging
Free camping on site. There is running water and flush toilets, but no showers. Open fires are not allowed. For motels and cabins nearby visit: www.hockinghills.com.
Water
Help reduce plastic waste: bring your own water bottle. And even though we will bring water to put in the big drinking water and lemonade jugs, it would be great if dancer each brought a gallon or two for themselves, especially to keep at their campsite. The local water is very rustic.
Make it a weekend getaway
The Hocking Hills has many beautiful sites at the Hocking Hills State Park and Lake Logan State Park. Plus new attractions like zip lining, canoeing and horseback riding. Visit www.hockinghills.com. for details.
Scholarships
A limited number of working scholarships are available; please contact Jan Philips at jan-allsolesdance@att.net.