See you at Winter WarmUp #22 in 2024!
We are excited to present Hot Coffee Breakdown, the Rosenthorns, Diane Silver and Darlene Underwood!


Workshops

Plan to bring a yoga mat for yoga; instruments for the jam, and drum or percussion instruments for the drum circle (some will be provided). Saturday at 1:15 will be clogging.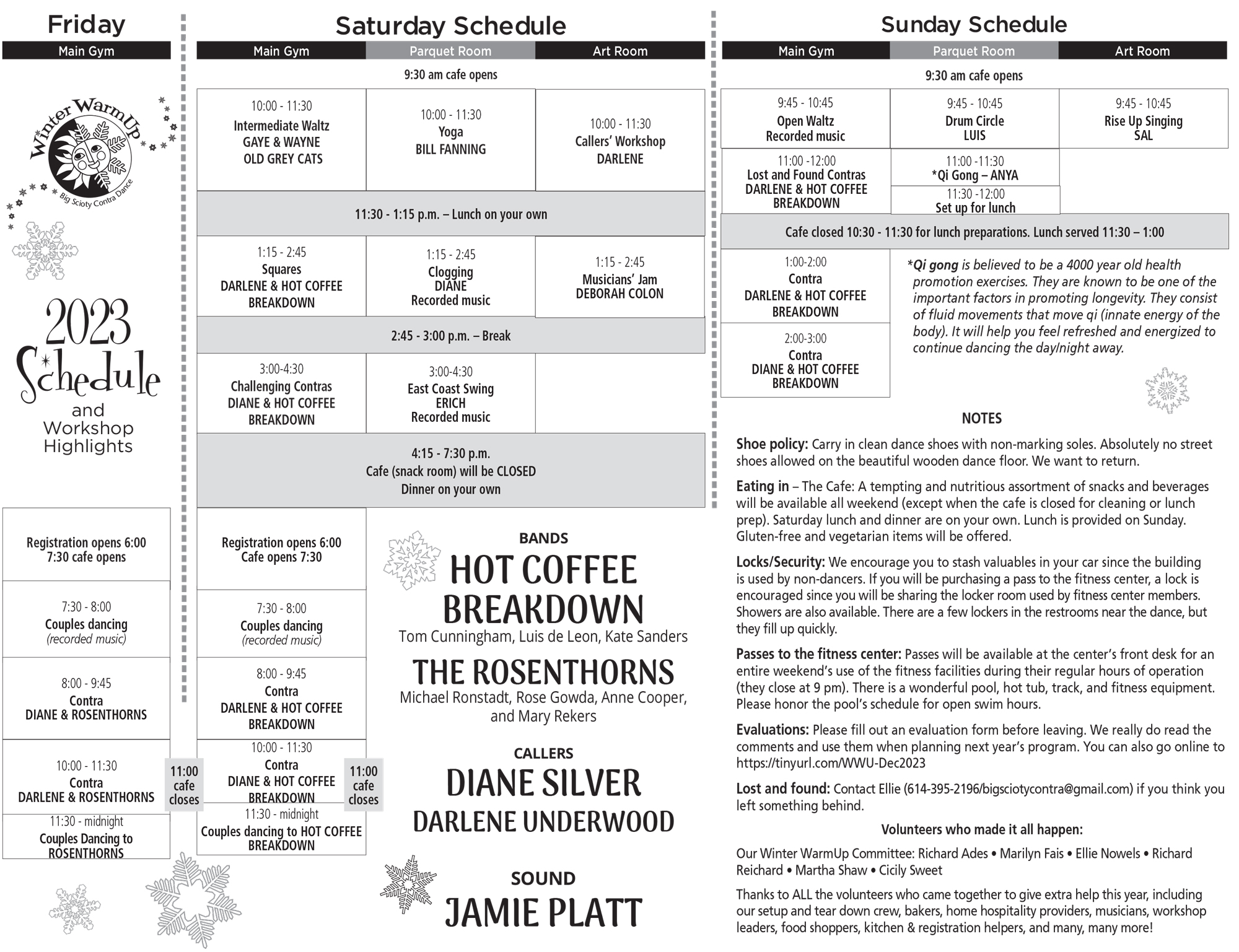 Winter WarmUp will be held at the Worthington Community Center,
345 East Wilson Bridge Rd., Worthington, OH 43085-2346 (on the north end of Columbus). 
Health Protocols:
Masks and COVID vaccination are optional. We reserve the right to reinstate requirements if conditions warrant it.
WWU2023 flyer for mail in registration
---
PRICING
Entire weekend early bird prices –  on or before Nov. 18: Adult (27 or older) $100 ;Youth (26 and under) $60
Entire weekend after Nov. 19 or at the door: Adult (27 or older) $120; Youth (26 and under) $80
A la Carte Prices
Fri. night only – Adults 27 or older: $40; Youth 26 and under: $30
Saturday all day (workshops and Saturday night): $50 adults; $40 Youth 26 and under
Sat. night only – Adults 27 or older: $40; Youth 26 and under: $30
Sunday only – Adults 27 or older: $40; Youth 26 and under: $30
Pre-registration is strongly encouraged to help us plan our food purchases. A limited number of working scholarships are available; apply early by ­contacting Martha Shaw (marthapottershaw@gmail.com or 614.562.4974).
Refunds: Full refunds available through Nov. 18. From Nov. 19 to the beginning of the dance on Friday, refunds will be granted, minus $20 ($10 for partial registrations). Refund requests made after the dance weekend begins will not be honored.
You can use PayPal to register & pay online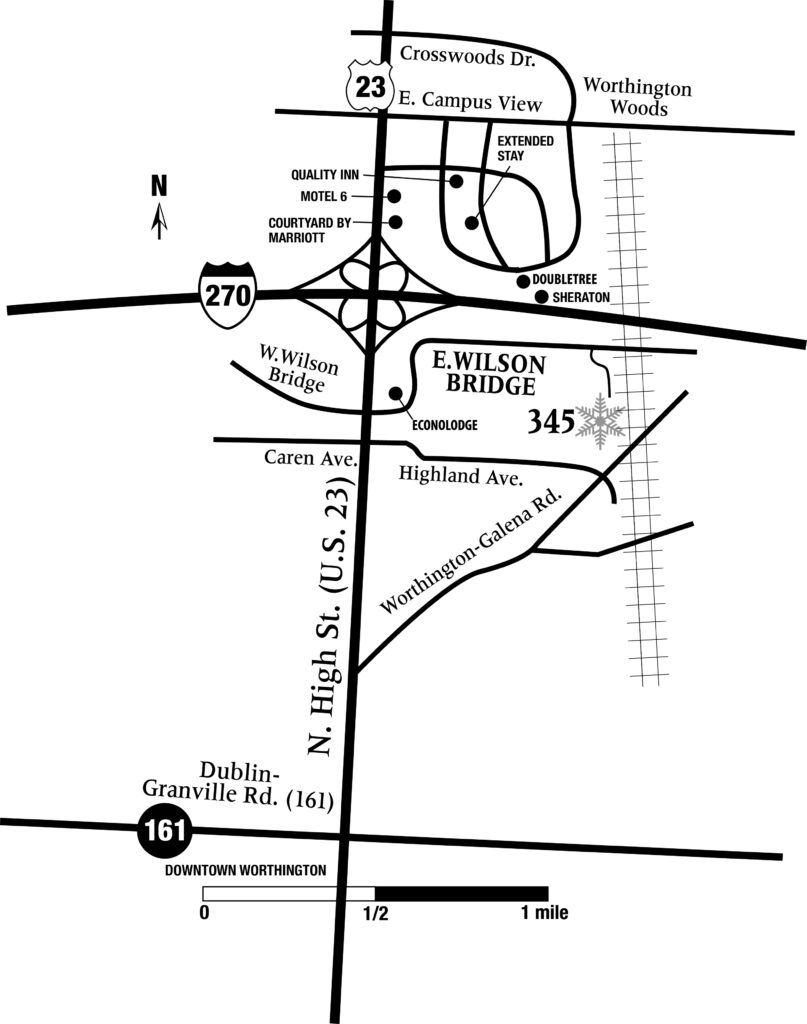 DETAILS
Accommodations – A few nearby hotels are shown on the map. No special rates are available.
Home hospitality – Please complete the housing request when registering. Housing is limited – first come, first served. All those requesting housing must have completed registration and paid in full.
Food – A nutritious assortment of snacks will be available during the weekend, with vegan and gluten-free alternatives, and Sunday lunch is provided.
Be sure to bring clean dance shoes! (super important in the winter)
Bring a lock – the center will allow us to leave locks on the lockers near the dance for the duration of the weekend and we are allowed to leave items in lockers overnight. Please lock up your valuables in either a locker or your car, as we share this space with other groups and Big Scioty cannot be responsible for possessions.
"Dress like a Snowflake" is on Sunday (optional!) – All dancers are invited to dress in their snowiest attire on Sunday! No special reason – just a local tradition that grew.
Bring items for the clothing exchange – bring any gently used dancing clothes and exchange for new-to-you items.
Pool and hot tub passes available – The Worthington Community Center has a large pool area with hot tub and a lap pool, as well as an excellent fitness area. Unlimited-use fitness center passes, good for the whole weekend can be purchased for $8. Pool hours are subject to change, and you may need to reserve a lap lane if swimming laps. Check the schedule for hot tub hours. You'll need to provide your own swimsuit, towel, and a lock for the locker room. Aquatics schedule is here.  Fitness center info is here.
Schedule:
Friday: Registration opens at 6:30 p.m., dancing from 7:30 p.m. to 12 M.
Saturday: Workshops 10 am – 11:30 am Lunch 11:30 am – 1:00 pm (cafe closed) Workshops 1:00 pm – 4:30 Dinner 4:30-7:30 (cafe closed) Dancing 7:30 – 12M
Sunday: Waltz & Workshops 9:45 am – 12 Noon Lunch served 11:30 am – 1:00 pm Dancing 1:00 pm – 3:00 pm
CONTACTS: important phone ­numbers & e-mails
General Info: Ellie Nowels 614-395-2196, bigsciotycontra@gmail.com
Home Hospitality: bigsciotyhousing@gmail.com
Scholarships and Volunteer Signup: Martha Shaw – marthapottershaw@gmail.com 614.562.4974
Registration: Richard Reichard – rdreichard58@gmail.com
Worthington Community Center (Front Desk): 614.436.2743 – call if you're lost!
See you December 1-3, 2023!